Nova Auto detailing is proud to be a place to come to get your Ceramic coating done here in Edmonton. We are excited to introduce the services of top of the line Nano ceramic coatings which truly transform the depth, colour and shine and offer superior, long lasting protection.
What is Ceramic Coating?
Ceramic Coating is a liquid polymer that is applied by hand to the exterior of a vehicle
The coating chemically bonds with the vehicle's factory paint, creating a layer of protection. It is a premium wax alternative and the ultimate paint protection. Ceramic Coating creates a permanent or semi-permanent bond with your vehicle's paint, meaning that it does not wash away or break down and does not require repeated application every few months.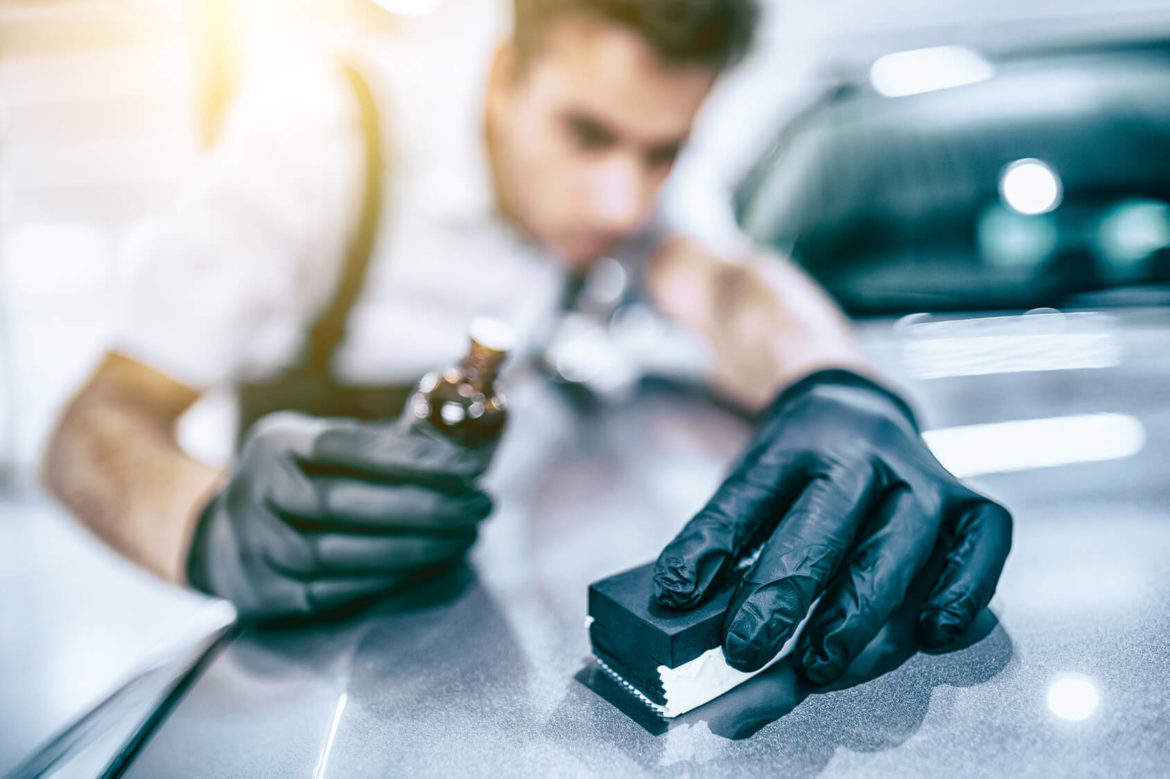 Ceramic Coating products are "all about the surface", particularly on cars and boats. Their goal is to engineer the world's best surface care products. Products based on real science, innovative materials and total ease of use, delivering maximum long-term visual impact. Products that protect not only against the elements, but the ravages of time, the impact of the daily grind. That's why all of our ceramic coating products have 3S or Smart Surface Science built in. By harnessing the performance of Nano scale composite materials and tested to extremes, 3S is your guarantee that our ceramic coating polishes, cleaners and deep gloss coatings work harder, smarter and more easily than anything else you've tried.
Why do you need this product on your vehicle?
The benefits are never ending for ceramic coating especially here in Edmonton with our intense winters. Edmonton has also been using calcium chloride for the last couple of winters to melt the snow and ice on the roads and this product is massively effecting vehicles conditions after winter is over.
Winter is usually when your car gets its dirtiest, and when there are the fewest number of days when it is safe to wash your car. Ice melt, which helps to keep our roads safe to drive, can be caustic to your car's paint job, if not routinely washed away. Many counties have stopped using ice melt on the roads, as it eats not just at the road, but also at your car.
During Winter 2018-2019, the City will continue the anti-icing pilot that was started in 2017. The product will be applied to about 3,000 km of roads, or about 40% of Edmonton's arterial and collector roads.
Anti-ice is a calcium chloride solution with an added corrosion inhibitor. It is applied in a thin layer to roads, once per snow event, before or during a snowfall. The product prevents ice and unsafe road conditions but is highly corrosive and damaging to not only our roadways but also our cars.
This is keeping our roads safe, but our vehicles paint is not enjoying harsh chemicals like this. Your vehicle is an expensive investment so why not treat it like one and spend some extra money on the best paint protection on that market and at the best servicing price here in Edmonton.
Why come to us?
The big brand detailing shops here in Edmonton are charging outrageous prices for this service. We are a smaller shop and not franchised so we are able to undercut a lot of the additional costs these companies have. Bubbles is charging $999 for the starting price on ceramics regardless if you drive a small car or a big truck. Furthermore, other detailing companies are charging for paint correction (polishing and scratch removal) on top of the ceramic costs. At Nova Auto Detailing we wanted to include any extra costs all into one package. Typically for the average sized vehicle we charge $500-700 and our most expensive package on a big truck would top off at $1500. This is a massive cost saving to get this service done and why so many Edmonton customers have started to come to us for all their paint protection needs.
What are the Benefits?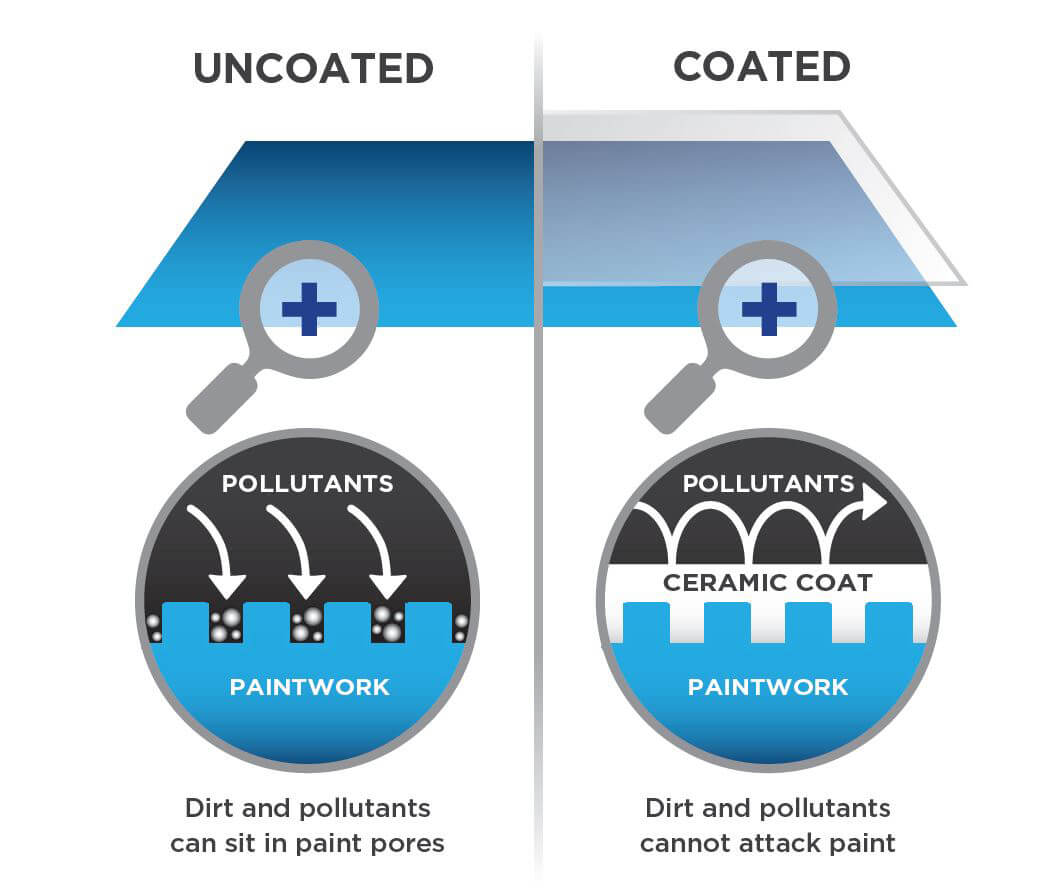 Offers good protection to the car's surface
Ceramic Coating Advantages Ceramic coating offers good protection to the car's surface. The Nano-coating can protect the car from most scratches, dirt and chemical contaminants. Ceramic coating also doesn't have any side-effects to the original paint.
Longer lasting
Ceramic coating also lasts longer than regular paint. Since the coating is infused with the stock paint due to strong chemical bonding, the protection stays put even under heavy shocks and vibrations
Easy of use
A car with ceramic coating is also easier to clean. The body panels of a ceramic coated car will be smooth and free of abrasions. Such a surface offers no place for dirt to stick on to. Even if it does, a simple swipe with a clean cloth brings the car back to its radiant finish.
More effective
Earlier, cars were given that extra shine by waxing. However, waxing is temporary and will eventually wear off. Both waxing and ceramic coating takes a considerable amount of time to be applied. But in the long run, ceramic coating is better than waxing due to its long life and better finish.
Cost effective
The long life of ceramic coating indirectly makes it highly cost-effective. In addition to all the above advantages, ceramic coating makes your car look so much better.

Bronze

Car $400

SUV $550

Truck $700

Carpro CQ.UK 3.0
2 layers on all painted surfaces.
Carpro Gliss
1 layers of Car pro Gliss on all painted surfaces

Silver

Car $500

SUV $650

Truck $800

Carpro CQ.UK 3.0
2 layers on all painted surfaces.
Carpro Gliss
1 layers of Car pro Gliss on all painted surfaces
Carpro Cquartz Dlux
1 Layer on all wheel Faces

Gold

Car $800

SUV $950

Truck $1100

Carpro CQ.UK 3.0
3 layers on all painted surfaces.
Carpro Gliss
2 layers of Car pro Gliss on all painted surfaces
Carpro Cquartz Dlux
1 Layer on all wheel Faces
Carpro Fly by 30
1 layer to all glass surfaces
Book Your Ceramic Coating
Save your vehicles finish
Contact us now to book your car in for ceramic coating!
Why Choose Us
Learn more about us
Our crew members are all trained and skilled and fully equiped with equipment and supplies needed that we can deliver the best results.